Colts Rebuilding Completely: Cut Five Players, Including Dallas Clark; Put Freeney on Trade Block
The Indianapolis Colts are definitely cleaning up this team right now. The whole damn thing. After...

http://www.footbasket.com/2012/03/colts-rebuilding-completely-cut-five.html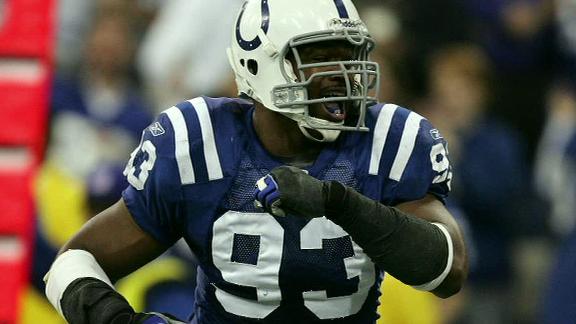 The Indianapolis Colts are definitely cleaning up this team right now. The whole damn thing.
After releasing Peyton Manning on Wednesday, the Colts decided to cut five more players in Dallas Clark, Curtis Painter, Joseph Addai, Gary Brackett, and Melvin Bullitt. Adding to that, they put Dwight Freeney on the trade block.
With this, five key starters are now gone and a possible sixth if Freeney is traded.
"These players all made tremendous contributions to the organization and will forever be members of the Colts family," Colts owner Jim Irsay said in a statement. "It's always difficult to make these decisions which the nature of the salary cap requires. Their legacies with the Colts will be forever remembered by the organization, fans and Indianapolis community. We wish them all the best in their future endeavors."
The Colts need salary cap space to build for the future, and with Freeney's large contract, they are going to need some help. The Colts really don't want to part ways with him, so they look to restructure the contract or trade him.
Freeney had a solid season last year, with 8.5 sacks. He had 102.5 sacks in his career, which leads the Colts all-time.
After having their worst season since 1998, the Colts are on a massive rebuilding project that revolves around Andrew Luck as the future of the team.
"It's really a tough deal, it's tough on all of us, especially Mr. Irsay," new general manager, Ryan Grigson said. "Hopefully the fans understand that to achieve the success again that we have had before, we have to make some tough decisions."
I really don't expect the Colts to be any type of contender next year, but there's hope for 2013, as they will have tons of cap space. As of right now, it's time to rebuild after a solid 14-year run under the Manning era.
Along with that, I don't really expect Freeney to be traded this season and I don't expect the Colts to get anything better in return than possibly a third-round pick.
It's going to be an interesting off-season for Colts fans.
---