Major League Baseball has always been viewed as a classic American sport. In the last fifty years, the world has greatly changed… but for the most part, the game has remained the same. Today, in a modern world, baseball needs to make some simple adjustments to the fan's experience in order to stay relevant.
Major League stadiums are just as nice, if not nicer, than NBA and NFL arenas and stadiums. In the last ten years, baseball fans have seen retractable roofs, pools in center field, and even weird dolphin home-run sculptures implemented in Major League stadiums. MLB has shown a commitment to bringing fans out to the ballpark. Despite baseball's efforts, attendance still isn't where it should be for THE major sport in the United States.
Major League Baseball has a huge misconception about stadiums that I think is hurting the sport. They think that shiny attractions at the ballpark are going to bring in more fans, when really fans just want accessibility. What gives fans a better ballpark experience; a $2+ million statue of a dolphin, or more public transit access to and from the stadium? I'm just curious as to why MLB continues to spend money on ballparks in the wrong places.
The most obvious thing MLB needs to do to fix their stadiums is find a way to incorporate modern technology into the fan's experience. An easy way they can do this is by installing electrical outlets by every seat. This would give fans a place to charge their phone, or plug-in their radio during the game. A baseball traditionalist might complain that this would take away from the beauty of the game, but I think that in between innings there is nothing wrong with fans using their phones.
Last year at various games I witnessed multiple iPhone users purchasing food from an iPhone app, and having it delivered to their seat about ten minutes later. Assuming that the average trip to the concession stand takes at least an inning, baseball purists should be thrilled that fans are staying in their seats and not missing any of the action. Having a place to charge your phone is necessary if you want to tweet, or text during the game.
One way this idea wouldn't work is the possibility of rebellious fans plugging in random objects into the outlets. I could see some fan trying to be funny plugging in a lamp or microwave at a ballgame. However, those ushers that walk around seamlessly during the games (no offense ushers), could always monitor the use of the outlets. Money could be made from the team store selling embroidered heated blankets for those chilly nights at the ballpark. The concept of outlets at every seat might not be the most practical idea, but it would make attending games a better experience for a lot of people.
I'm pretty sure everyone know somebody who has been inside an Apple or Sony store. These stores have multiple stationary high-tech computers available for customer use. The benefit for the companies is that the customers end up falling in love with their products and later purchasing them. If MLB stadiums had a Sony or Apple store (in the concourse, nowhere close to the field of course), then fans who had little interest in the game, or dedicated fans pre and post-game, would have somewhere to go.
Everyone has been to a game where there is a particular fan who just has no interest in the game. They'll spend the whole game commenting on how baseball is slow, the team's uniforms and his intricate opinion on them… because everyone else at the game is just dying to hear (groan). Well, with a computer store nearby, that fan finally has a place to go when he decides not to watch the game- and let everyone else enjoy the game in peace.
Major League Baseball needs to make some changes in order to keep up with the rest of the world. They have been pioneers with MLB.tv and all the great apps that that they have produced for computers, tablets and smartphones. Baseball will always be timeless, but the marketing needs to continue to grow in order for MLB to stay relevant in our technology world. If MLB concentrated more on accessibility and less on unnecessary attractions, attending games would be a more pleasurable experience for everyone.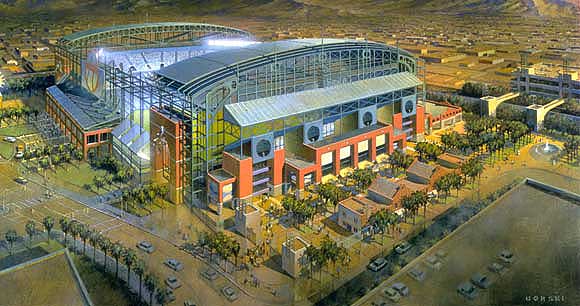 **Today's feature was prepared by our Baseball Writer, Sam Evans. We highly encourage you to leave your comments and feedback at the bottom of the page and share in the discussion with our readers. You can also follow Sam on
Twitter
***
Please e-mail us at:
mlbreports@me.com
with any questions and feedback. You can follow us on Twitter and become a fan on Facebook . To subscribe to our website and have the daily Reports sent directly to your inbox , click here and follow the link at the top of our homepage.
---
Written by MLB Reports Content Partner
24/7 Baseball News, Updates and Analysis. If Baseball is your passion, MLB reports is for you! Follow on Twitter @MLBReports.