Andre Iguodala broke many hearts on Friday night in Atlanta when the Golden State Warriors guard knocked down a three-pointer at the buzzer to beat the Hawks, 101-100.
Take a look:
Iggy had only seven points in the win, but it was the last shot that mattered.
In fact, Iguodala has hit so many buzzer-beating shots, he ranks second in the NBA for the most buzzer-beating shots since the 2004-05 season, according to ESPN Stats and Info: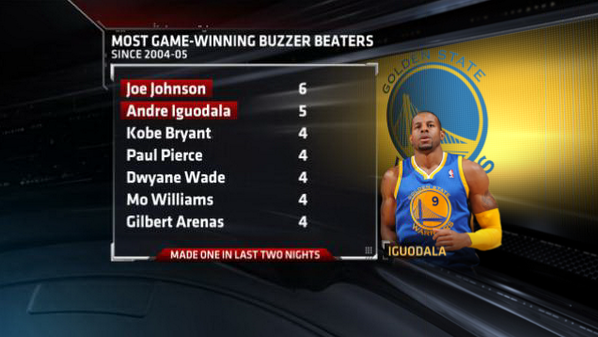 Earlier in the season, Iguodala hit a buzzer-beater to knock off the Oklahoma City Thunder, 116-115.
http://www.youtube.com/watch?v=US6pVmJna0U&w=620